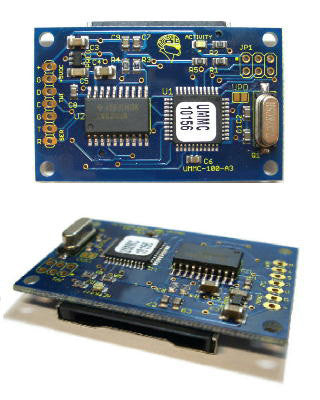 Rogue Robotics
uMMC Data Storage Module
---
Features
Powerful and easy serial interface to flash memory cards.
MMC, SD (SDC), SDHC, SDXC cards supported.
microSD, transflash, and miniSD support (with adapters).
2400 bps to 460800 bps serial rates.
40 KB/s throughput.
3 to 5 volt operation.
RTC built-in for time stamps (requires host to set after power-up).
Low power operation - less than 40mA @ 5V during file write - less than 10mA @ 5V idle (ultra low power operation available).
Small module footprint (2" x 1.25"/5.1cm x 3.2cm) with 4x40 mounting holes.
FAT12, FAT16 and FAT32 compatible - 8MB to 2TB.
Random reading and writing data files (you can read and write anywhere in files).
Up to 4 files open simultaneously.
Internal high-speed file copying.
Configuration can be read from card.
Easily interfaced with any microcontroller (PIC, AVR, 8051, etc.).
Chipset available (TQFP44 or QFN44).
Perfect for data acquisition and portable data applications.
Can be fitted as an ArduinoTM shield: How to.
Example Applications
Data Logging

GPS
Aircraft/vehicle telemetry
Industrial environment sensors
Weather station data

Store scripts/code for microcontroller sequencing
Store images and telemetry for robotics
... and much more!
Description
The uMMC is quite possibly the easiest SD card interface for a microcontroller. With a time-tested reliable file system engine, the uMMC bridges the gap between PCs and microcontrollers by providing an easy way of accessing data from SD cards.
Using the serial interface on the uMMC, you can read from and write data to SD cards in FAT12, FAT16, and FAT32 format -- virtually any card available from 8MB up to 2TB.
Firmware can be updated through the serial interface, as new features become available.
SD/MMC card not included.
Resources
---
Share this Product
---
More from this collection