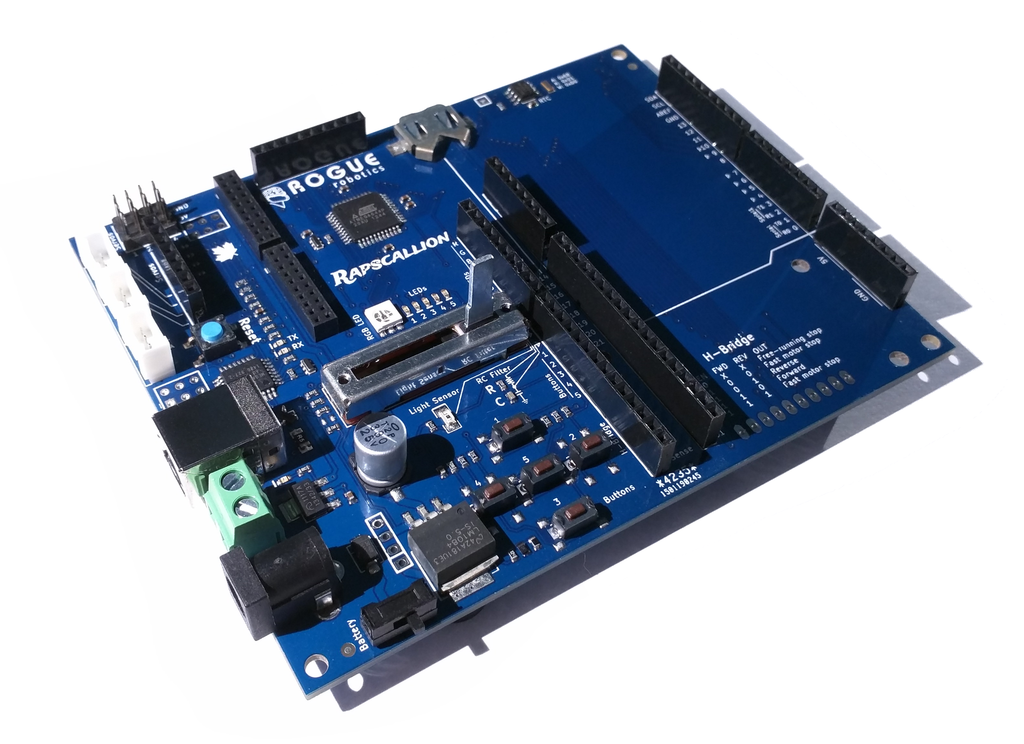 Rogue Robotics
Rapscallion Lite
---
FEATURES
5 Amp 1084 5 Volt Voltage Regulator
MCU: Atmel ATmega644P (pico-power)
16 MHz Crystal Oscillator
Total Flash Memory: 65536 bytes (64 KiB)
Available Flash Memory: 63488 bytes (62 KiB)
SRAM: 4096 bytes (4 KiB)
EEPROM: 2048 bytes (2 KiB)
2 Hardware Serial Ports
DS1307 RTC (Real Time Clock) On-board (optional)
User selectable power - battery, DC adapter, or USB
USB connector
4 Servo connectors
5 Push buttons
5 LEDs
1 RGB LED
1 Light Sensor
1 RC Filter Circuit
3 Configurable Grove connectors
Slide potentiometer
Control headers for Rogue Robotics LCHB - H-bridge motor controller
Extra I/O headers
Arduino™ expansion header
Arduino™ IDE compatible (core download required)
EXAMPLE APPLICATIONS
Electronics education
Computer programming education
Rapid prototyping
Tangible media
Interactive art
DESCRIPTION
The Rapscallion is an educational Arduino™ compatible, Atmel microcontroller board from Rogue Robotics.
The Rapscallion is an Atmel ATmega644P based board which provides full shield support while adding more I/O and 4 dedicated LEDs and push buttons. Running at 16 MHz, and with an on-board TWI (aka I2C) controlled Real Time Clock (RTC - optional), the unit is designed to provide educational expansion opportunity and robotics control.
The ATmega644P provides more I/O and 2 hardware serial ports that can also function as master SPI ports.
There is space for a breadboard, and comes with LEDS (including 1 RGB LED), push-buttons, a light sensor, an RC filter circuit, and a slider potentiometer to make it easy to create educational projects.
---
Share this Product
---
More from this collection