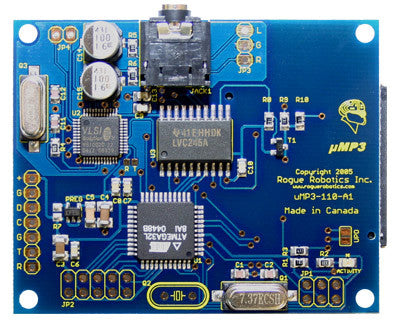 Rogue Robotics
uMP3 Playback Module
---
Features
Plays MP3, PCM WAV, and IMA ADPCM WAV files
Plays all MP3 bitrate files, from 32 kbps up to 320 kbps
Plays all MP3 sample rate files, 32, 44.1 and 48 kHz
MP3 playback control via serial or parallel interface
Works out of the box by using digital triggers
Pitch control
Play tones (no files needed)
Powerful and easy serial interface to flash memory cards
Supports MMC/SD/SDHC/SDXC
microSD, transflash, and miniSD support (with adapters)
Easy to use serial data interface (TTL, 8 bits, no parity, 1 stop bit)
2400 bps to 460800 bps serial rates
40 KB/s throughput
3 to 5 volt operation
RTC built-in for time stamps (requires host to set after power-up)
Low power operation - less than 60mA @ 5V during playback - less than 30mA @ 5V idle
Small module footprint (2.5" x 2"/6.35cm x 5.1cm) with 4x40 mounting holes
FAT12, FAT16 and FAT32 compatible - 8MB to 2TB
Up to 4 files open simultaneously
Read and write data files with simultaneous audio playback
Internal high-speed file copying
Configuration can be read from card
Easily interfaced with any microcontroller (PIC, AVR, 8051, etc.)
Chipset available (TQFP44/QFN44 + LQFP48)
Example Applications
POP/Kiosk audio playback
Portable MP3 player
On-hold music for phone systems
Amusement attractions
Commercial ambient audio systems
Music, speech and data storage for robotics
... and much more!
Description
The uMP3 is a versatile, low power embedded MP3 player which allows designers to integrate high quality MP3/PCM/WAV/IMA ADPCM playback into designs.
The module has 8 external trigger pins which can be used to trigger MP3 tracks off of the SD/SDHC/SDXC card. The uMP3 also has a 7 bit digital interface mode which allows extremely simple triggering of up to 127 different tracks.
The serial interface allows full control of all playback features, as well as all file functions available on the uMMC Data Storage Module. This means you can play audio tracks and store/read data simultaneously.
Each module has a 1/8" stereo headphone jack for headsets (16 Ohms+) or for line-in connections.
For 7-12 volt operation (especially for standalone applications), we recommend using the Rogue Robotics rPower board.
Firmware can be updated, as new features become available, through the serial interface.
SD/MMC card not included.
Resources
---
Share this Product
---
More from this collection